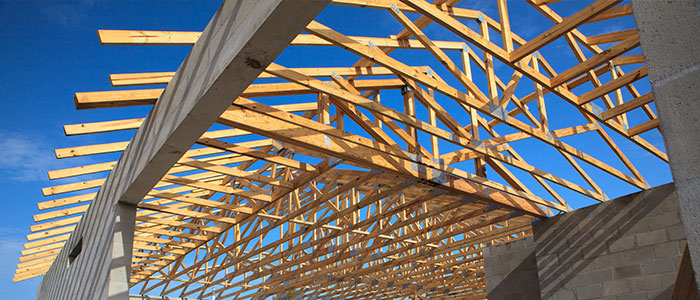 Roof Trusses are used in over 95% of all new housing in the UK and are increasingly being used in commercial and industrial settings. At Stalbridge Timber we manufacture and supply Trussed Roof Rafters to private and trade customers.
Our roof trusses are designed using the latest software from MiTek and manufactured using MiTek's Mk1 press with an Easyjig table combined with Virtek lasers.
We only use TR26 graded kiln dried timber to manufacture all of our timber engineered products.
If you would like a quotation, please send us the plans for your project and we will provide a colour A3 design and full price breakdown. We can also supply a full set of calculations for building control.
We also offer a site measure service should it be required. Once you have received your quotation from us please ring and schedule a convenient time.
Features and Benefits
Flexible and Practical – Fully engineered and made to measure.

Economical – Trussed rafters can use up to 40% less timber than a traditional cut roof.

Reduced Labour Costs – Quick erection on site, allowing quicker progression.

Design flexibility to accommodate the wide range of services required in modern buildings.

Complete roof structure provided—ready for roof finishes and plasterboard

Factory assembled components ensure consistent quality
Stalbridge Timber can supply a range of roof trusses specifically designed to meet your requirements. Please contact us to find out more about our roof trusses and which type would best suit your project.