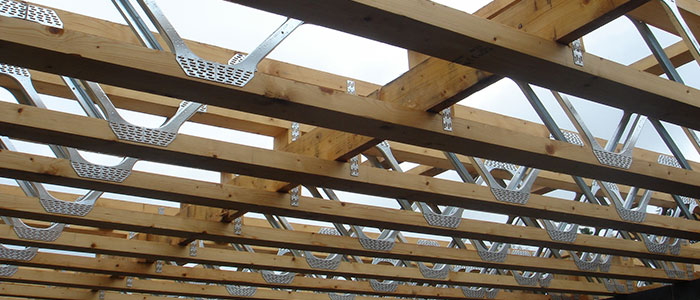 Posi-Joists – Engineered Metal Web Floor Joists
Posi-joists are a revolutionary type of engineered metal web floor joists that create a lightweight and stronger alternative to solid timber joists.
One of the major advantages with posi-joists is that you can run services such as wires and pipes through the joists without any need for cutting and drilling. The size of services that can run through them depends on the depth of the joists, we can supply joists in five depths 202mm, 225mm, 253mm, 304mm, 373mm and 421mm.
We only use TR26 graded kiln dried timber to manufacture all of our timber engineered products.
If you would like a quotation, please send us the plans for your project and we will provide a colour A3 design and full price breakdown. We can also supply a full set of calculations for building control.
We also offer a site measure service should it be required. Once you have received your quotation from us please ring and schedule a convenient time.
Features and Benefits
Open web system gives almost uninterrupted access for services such as waste, water and heating pipes and electrical cabling.

Reduced Labour Costs – Can be installed in a third of the time than solid timber joists with less skilled labour required.

Flexible and Practical – Fully engineered and reduced site wastage because joists are made to measure.

Can achieve much larger spans than equivalent timber joists.

Much lighter than equivalent timber joists.

Factory assembled components ensure consistent quality
Stalbridge Timber can supply a range of posi-joists specifically designed to meet your requirements. Please contact us to find out more about our posi-joists and how they would best suit your project.